Nürnberg: "Young Lions On Stage"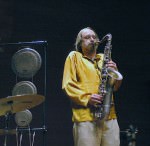 Artist In Residence beim Young Lions Of Jazz Festival in Nürnberg: Scott RobinsonAnfangs war "Young Lions On Stage" eine mehrtägige Konzertreihe, die in Zusammenarbeit zwischen der Hochschule für Musik Nürnberg, dem Verein "Nürnberger Jazzmusiker" und dem Jazzstudio Nürnberg veranstaltet wurde. Doch das Interesse des Publikums und der Medien vor Ort war so groß, dass sich die Organisatoren entschlossen haben, an das "Young Lions On Stage" noch ein "Internationales Jazzfestival Nürnberg" anzuschließen, das zum ersten Mal vom 2. bis 18. Mai in vier Spielstätten stattfinden wird. Highlights der Festivalpremiere sind die vier "Artists In Residence": Pianist Jovino Santos Neto, Schlagzeuger Marcio Bahia, Saxofonist Scott Robinson und Komponist Jim McNeely werden nicht nur in verschiedenen Konstelationen Konzerte spielen, sondern auch die Studierenden der Musikhochschule in Workshops unterrichten.
Studentenensembles stehen zudem im Mittelpunkt der Konzerte im altehrwürdigen Jazzstudio – unter anderem das Manuel Oestreicher Quintett (7. Mai), das Jan Prax Quartett (8. Mai) oder das Izabella Effenberg Kollektiv (16. Mai). In Kooperation mit der Norwegischen Musikhochschule Oslo treten am 9. Mai das Jerve/Wildhagen Quartett im Heilig-Geist-Saal auf. Dort gibt es am 11. Mai auch eine "Mega-Night Of The Saxophones": mit verschieden groß besetzten Formationen und einem 20-köpfigen Saxofonorchester plus Rhythmusgruppe. "Das Festival im Allgemeinen und die geballte Präsenz internationaler Stars im Besonderen bedeuten eine enorme Bereicherung für die Hochschule und stellen ein kulturelles Highlight für die Stadt Nürnberg dar, das in die gesamte Metropolregion ausstrahlen wird", heißt es in der Pressemitteilung. Das komplette Programm gibt es auf der Site der Hochschule für Musik Nürnberg.