Online ads
jazzthing.de
The website complements the printed edition with entertainment, useful information and things worth seeing, reading and hearing. Standards are highlights from the magazine, reviews, permanently updated news, references to touring artists and jazz on radio and tv. Raffles and multimedia offerings included.
JAZZthing.TV is our web-tv with clips and exclusive contributions. On the jazz thing channel at laut.fm you can hear the music our readers love: Jazz, Soul, Funk, HipHop and world music. Götz Bühler brings the favorites of the magazine on byte.fm once a month.
Social media is part of our business: On Facebook visitors can share our contributions with their friends all over the world. Via Facebook we connect music lovers with our website.
Last but not least: Our mail newsletter goes to 4.000 subscribers every Tuesday and Friday and draws the attention to jazzthing.de again.
PAGE IMPRESSIONS AND VISITORS
August 2023: 808.363 page impressions by 198.614 unique visitors.
E-MAIL NEWSLETTER
4.023 subscribers (September 2023).
FORMATS, PLACEMENTS AND PRICES
File formats
JPG, GiF, PNG or Rich Media.
Max. file size: 150KB.
Animated ads (GIF, Rich Media):
· Animation length must be 30 seconds or shorter
· Animations can be looped, but the animations must stop after 30 seconds
· Animated GIF ads must be slower than 5 FPS
Prices
*Kombi:
discount in case you book an advertisement in the print edition for more than 500 € at the same time.
Prices are plus statutory VAT and for a run-time of four weeks.
Leaderboard / Super Banner
in rotation, visible in all columns of jazzthing.de
Placement either above the content or to the right of the logo
Size (w x h) 728 x 90
Price Standard: 325 € – Kombi*: 275 €

Full Banner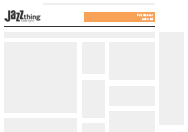 in rotation, visible in all columns of jazzthing.de
Placement right of the logo
Size (w x h) 468 x 60
Price Standard: 225 € – Kombi*: 175 €


Medium Rectangle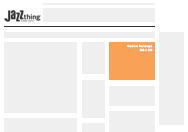 in rotation, visible in all columns of jazzthing.de
Placement right of the content area
Size (w x h) 300 x 250
Price Standard: 275 € – Kombi*: 225 €


Wide Skyscraper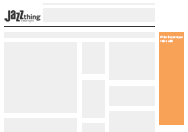 in rotation, visible in all columns of jazzthing.de
Placement either top right of the page or in parallel to the content to the right of the navigation
Size (w x h) 160 x 600
Price Standard: 275 € – Kombi*: 225 €
Skyscraper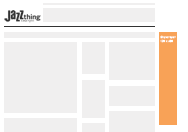 in rotation, visible in all columns of jazzthing.de
Placement either top right of the page or in parallel to the content to the right of the navigation
Size (w x h) 120 x 600
Price Standard: 225 € – Kombi*: 175 €
Newsletter ads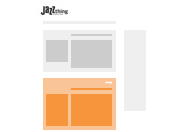 Each ad is bookable for 4 consecutive editions of our Jazz thing newsletter which is sent out twice every week.
Placement with picture, text and link between the articles


Size headline, text with a maximum 500 characters plus link and link text, picture (w x h max.) 150 x 220 pixels (we can resize or crop your material, portrait format preferred)
Prices
175 € for 4 consecutive issues with the same text and picture
225 € for 4 consecutive issues, including one replacement of the ad's content
275 € for 4 consecutive issues and three replacements of the ad's content
DEADLINE AND DELIVERY
All formats
1 week before first publishing date
Newsletter ads
Two days before before send-out (Friday for Tuesday's issue, Wednesday for Friday's)
Delivery address
jazzthing.de, Marco Jung, Friedrich-Naumann-Str. 16, 35037 Marburg, Germany
E-Mail: redaktion@jazzthing.de