USA: Jimmy Haslip & NextGenJazz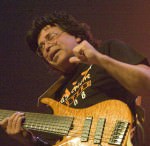 Macht ein Jahr Pause: Bassist Jimmy HaslipJimmy Haslip, Bassist und Gründungsmitglied der US-Fusion-Band Yellowjackets, legt ein Jahr lang sein Instrument beiseite und macht Pause: "Im vergangenen Jahr war ich zehn Monate auf Tournee", so Haslip auf jazztimes.com. "Die Unterbrechung wird mir die Möglichkeit geben, mehr Zeit mit meiner Familie zu verbringen." Während seiner Auszeit wird Felix Pastorius die Bassisten-Position bei Yellowjackets übernehmen.
Auch drüben in den USA gibt es eine "Next Generation"-Initiative. Das Drake Hotel in Chicago veranstaltet in Zusammenarbeit mit dem "Jazz Institute Of Chicago" die Konzertreihe "NextGenJazz". Drei Trios mit jungen Musikern sind dafür eingeladen: Den Anfang macht am 1., 8. und 15. März das Marquis Hill Trio, gefolgt vom Rajiv Halim Trio am 5., 12. und 19. April sowie vom Katie Ernst Trio am 3., 10. und 17. Mai. Sämtliche Infos über "NextGenJazz" und die auftretenden Bands gibt's auf der Site vom "Jazz Institute Of Chicago".