Marius Neset
Piepsen, Zwitschern, Flattern
Als der Norweger Marius Neset vor zwei Jahren sein mit lauter zündenden Ideen vollgestopftes Album "Golden Explosion" veröffentlichte, vernahm man den Knall überall in der Jazz Community. Nun legt der Starsaxofonist in spe ein Album nach, das ganz anderer Natur ist. Es heißt "Birds" und wird manchen Zuhörer sicher zu folgender Einschätzung verleiten: Der Typ hat ja wohl einen Vogel. Einen ganz prachtvollen.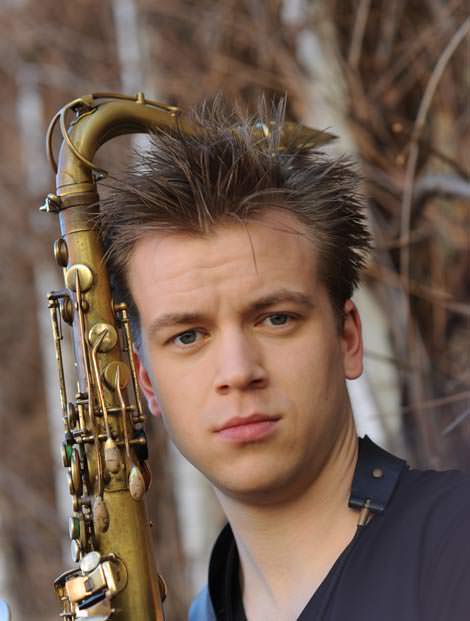 Wer diesen schlaksigen Youngster mit dem Babyface und den hochgegelten Haaren auf sich zukommen sieht, wird sich denken: Das ist vielleicht so ein Boygroup-Typ – oder ein Surfer. Ob es jetzt von Vorteil für ihn ist, dass man Marius Neset ob seines harmlosen Äußeren falsch einschätzt?
Irgendwie will man ihm das, was er gleich tut, jedenfalls nicht zutrauen. Dann setzt der Bubi sein Tenorsaxofon an die Lippen und bläst einem alle Vorurteile über den Haufen – mit einer gefährlich intensiven, verminten Musik, einer selten gehörten rhythmischen, strukturellen, dynamischen Konsequenz.
Letztes Jahr hatte Marius Neset einen denkwürdigen Auftritt im Jazzkeller Burghausen. Fast so viel Spaß wie sein Auftritt machte, in die Gesichter der Anwesenden zu schauen, unter ihnen viele Journalisten und Festivalmusiker. Der Saxofonist, den ein paar Eingeweihte bereits aus der Band JazzKamikaze kannten, trieb seinen Zuhörern die Kiefer auseinander. Ungläubig starrten viele mit glasigen Augen auf die Bühne und versuchten, mit den Ohren zu verarbeiten, was ihnen da an akustischen Signalen mit Macht entgegenkam.
Dieser Marius Neset, der mit seinem 2011 veröffentlichten Album "Golden Explosion" (Edition Records/Soulfood) für Zündstoff in der Szene sorgte, ist einer, der seine Wirkung wohl auch deshalb erzielt, weil er sich mit fast unheimlicher Energie in alles hineinkniet, was er tut. "Er ist ein kleiner Extremist", witzeln Pianist Ivo Neame und Bassist Jasper Høiby von der Gruppe Phronesis, die musikalisch oft gemeinsame Sache mit dem Norweger machen. "Egal ob er nun Sport treibt oder Musik spielt: Immer muss er sich total verausgaben."
Für seine klanglichen Aktivitäten entwickelte Marius Neset vor Zeiten sogar einen ganz detaillierten Übungsplan, um allen Parametern gerecht zu werden und dem Unspielbaren, dem Ungehörten auf die Schliche zu kommen.
 "Naja, heute gehe ich nicht mehr ganz so systematisch vor. Ich spiele im wahren Sinne des Wortes viel mehr. Ich bin grundsätzlich an Sachen interessiert, die ich noch nicht beherrsche. So versuche ich etwa, in Echtzeit einen Dialog mit mir selbst zu entwickeln, in dem ich permanent zwischen den Registern meines Instruments hin und her springe."
Bei solchen und anderen Versuchsanordnungen zeigt er eisernen Willen und unendlich viel Geduld. Die rhythmischen Konzepte, die er auf seinem Album "Golden Explosion" ausbreitete, hat er etwa über viele Jahre mit dem Phronesis-Schlagzeuger Anton Eger entwickelt.
 "Irgendwann sollte man die Dinge wie im Schlaf beherrschen. Erst das macht einen beim Musizieren letztlich frei. Wenn du auf der Bühne stehst, solltest du nicht mehr darüber nachdenken, was du da treibst. Denn das würde der Musik den Fluss nehmen."
Marius Neset stammt aus der norwegischen Provinz. Früh hat er schon alle erdenklichen Instrumente gespielt und mit zwölf dann dank eines Lehrers am Saxofon Gas gegeben (erste Einflüsse: Charlie Parker und Michael Brecker). Die Isolation seiner kleinen Heimatstadt Os war eigentlich nur gut, um ungestört zu üben. "Bei uns gab es kaum Jazzmusiker. Ich musste unbedingt in eine größere Stadt wechseln, um mich musikalisch auszutauschen." Also schrieb er sich 17-jährig am Konservatorium in Kopenhagen ein. Zwei Jahre später komponierte er bereits ein aufwändiges Werk für Jazzensemble plus Streichquartett, das 2007 dann, von ihm selbst orchestriert, auf dem ersten Soloalbum "Suite For The Seven Mountains" (Calibrated) landete.
Der etwas üppigeren Besetzung scheint der 27-Jährige durchaus zugeneigt zu sein. So führte das renommierte Trondheim Jazz Orchestra erst kürzlich sein Werk "The Wizard Of Os" auf (eine CD wird bald eingespielt). Und das neue, bislang dritte Soloalbum Nesets geizt auch nicht gerade mit Personal: Auf "Birds" (Edition Records/Soulfood) dient ihm die um den Vibrafonisten Jim Hart erweiterte Band Phronesis als Rhythmusgruppe. Um dieses Grundquintett komponierte Marius Neset Texturen von verwirrender Farbenvielfalt für fünf Blechbläser, Flöte und Akkordeon. Los geht es mit einer Art Morsesignal, das bald von einem folkloristischen Akkordeon umtänzelt wird. Und dann fallen die Vögel über den Zuhörer her, piepsen, zwitschern, flattern. Der hochdisziplinierte Schwarm bildet einen Chor, wie man ihn selten gehört hat und trägt einen auf Flügeln durch (manchmal auch zu) üppig angelegte Klanglandschaften.
Ein wenig meint man das Erbe von Nesets einstigem Lehrer Django Bates durchzuhören – fünf Jahre spielte der Saxofonist in dessen Studentenbigband StoRMChaser.
 "Stimmt", lacht Neset, "Django hat wirklich einen großen Einfluss darauf, wie ich komponiere. Ich war schon sein Fan, bevor ich ihn traf. Ich versuche nicht, seine Sachen zu kopieren, sondern orientiere mich einfach an seiner Herangehensweise an Musik."