Jazz thing präsentiert
Power & Distinction - 10 Jahre Motéma
"Promoting recording artists of power and distinction." Das ist das Motto der New Yorker Plattenfirma Motéma, die vor exakt zehn Jahren an den Start ging. Die Bandbreite an Künstlern, die mittlerweile unter dem Herzsignet veröffentlichen, ist beeindruckend groß. Jazz thing feiert mit und präsentiert anlässlich des Jubiläums einen Sampler mit 17 Musikbeispielen aus der Labelgeschichte, blickt aber vor allem voraus: Knapp die Hälfte der Tracks ist bislang unveröffentlicht.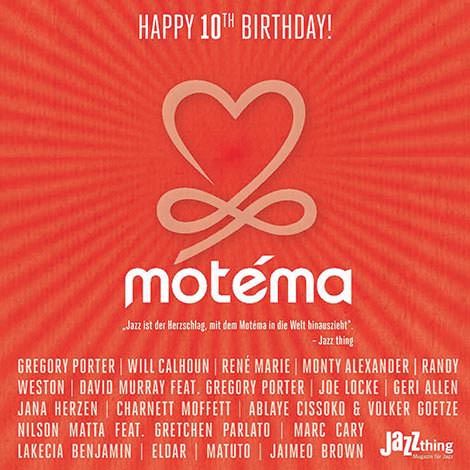 Motéma ist das Kind der Singer-Songwriterin Jana Herzen, die den Jazz während jugendlicher Wanderjahre in San Francisco und der Bay Area entdeckte – wo das Label anfangs auch beheimatet war. Da das Label von Anfang an ihre Herzensangelegenheit war, ist der Name gleichzeitig Programm: Motéma bedeutet schlicht und einfach Herz. Die Labelarbeit – Talentsichtung, Produktionsplanung, Promotion – ist für Jana Herzen die Fortführung ihrer künstlerischen Arbeit.
Dabei hat sie stets darauf geachtet, mit bereits etablierten Künstlern zusammenzuarbeiten – Musiker wie Randy Weston, Rufus Reid, Monty Alexander, Geri Allen oder David Murray gehörten oder gehören zum Roster –, aber auch neue Talente zu entdecken: Motéma bescherte uns Leute wie Lakecia Benjamin oder Gregory Porter, die zu großen Hoffnungen Anlass geben.
Puristische Scheuklappen gehören nicht zum Arbeitsmaterial der weltoffenen Firma. Die Pflege der Tradition geht bei Motéma oftmals ungewöhnliche Wege, wenn sich etwa die Pianistin Geri Allen dem Motown-Songbook widmet oder der junge Marc Cary einen Tribut an die legendäre Abbey Lincoln spielt. Die Anschlussstellen an Soul, Funk, Weltmusik oder das, was gegenwärtig in den Straßen New Yorks abgeht, sind stets geöffnet. Dabei besteht an einem kein Zweifel: Jazz ist der Herzschlag, mit dem Motéma in die Welt hinauszieht.
Gregory Porter "On My Way To Harlem" aus dem Album "Be Good" [2012]: Er gehört wohl zu den spektakulärsten Entdeckungen im Bereich männlicher Jazzsänger der letzten Jahre. Aus seinem zweiten Album "Be Good" stammt dieser Track, auf dem Porter direkten Bezug nimmt auf die Harlem-Renaissance – Harlem ist auch der Sitz von Motéma.
Will Calhoun "Dorita" aus dem demnächst erscheinenden Album "Life In This World": Der Schlagzeuger von Living Colour, die in diesem Jahr ihr 25jähriges Jubiläum feiern, hat sich seit geraumer Zeit auch dem Jazz verschrieben. Einen Vorgeschmack auf sein nächstes Album liefert unser Track "Dorita".
René Marie: "Black Lace Freudian Slip" aus dem gleichnamigen Album [2011]: Die Stimme von René Marie ist von Kritikern schon mit Ella Fitzgerald, Sarah Vaughan, Nina Simone oder Abbey Lincoln verglichen worden. Den schwülen Titeltrack ihres Motémadebüts – ihr siebtes reguläres Album – hat sie selbst geschrieben. Ihren Songwriterfähigkeiten nachzugeben, dazu hat sie einst ein ignoranter Clubbesitzer angetrieben, der sie anherrschte: "Echte Jazzsängerinnen interpretieren fremde Songs und singen nicht ihre eigenen."
Monty Alexander: "King Tubby Meets The Rockers Uptown" aus dem Album "Harlem-Kingston Express Live!" [2012]: Seit Jahren schon geht der jamaikanische Jazzpianist Monty Alexander seinen Reggaewurzeln auf den Grund. Auf dem Album, aus dem wir hier einen Ausschnitt hören, erklingt seine Band in einer Liveaufnahme aus dem New Yorker "Dizzy's Club CocaCola". Mit "King Tubby Meets The Rockers Uptown" hat Alexander sich einen Dub-Klassiker vorgenommen.
Randy Weston: "Fly Hi" aus dem Album "The Storyteller" [2010]: Der amerikanische Jazzpianist Randy Weston gehört längst zu den weltweit gefeierten Ikonen seiner Musik. Mit 85 Jahren erweist er sich auf seinem Motémadebüt lebendig wie eh und je. "The Storyteller" ist eine Liveaufnahme aus "Dizzy's Club CocaCola" und präsentiert Westons großartiges African Rhythms Ensemble.
David Murray Infinity Quartet feat. GreGory Porter: "Army Of The Faithful" aus dem demnächst erscheinenden Album "Be My Monster, Love": Tenorsaxofonist David Murray hat seinem Quartett einen neuen Namen und ein neues Repertoire verpasst: Mit Nasheet Waits an den Drums, Marc Cary am Klavier und Jaribu Shahid am Bass verleiht er auf seinem nächsten Album neun neuen Songs Tiefe und Substanz. Der Text zum Stück "Army Of The Faithful" stammt übrigens von dem Schriftsteller Ishmael Reed, und die eindringliche Stimme ist natürlich die von Gregory Porter.
Joe Locke: "Ain't No Sunshine" aus dem demnächst erscheinenden Album "Lay Down My Heart": Sein nächstes Album, das wir hier vorstellen, trägt den Untertitel "Blues & Ballads Vol. 1″ – dieses Konzept will Vibrafonist Joe Locke also fortsetzen. Mit dem Bassisten David Finck und dem Schlagzeuger Jaimeo Brown spielt Locke hier für "Leute, die die ganze Woche hart gearbeitet haben und nun mit ihrem Partner eine Nacht unterwegs sind". Wir haben uns für die tänzelnde Fassung des Bill-Withers-Klassikers "Ain't No Sunshine" entschieden.
Geri Allen: "Baby, I Need Your Lovin'" aus dem demnächst erscheinenden Album "Motown & Motor-City Inspirations": Dass die Pianistin Geri Allen ein Faible für den Motownkatalog hat, wissen wohl nur die wenigsten. Aber die Musik der Hitfabrik aus Detroit war der Soundtrack ihrer Kindheit. Das Album "Motown & MotorCity Inspirations" wird trotzdem eine eher intime Angelegenheit sein. Wir stellen hier "Baby, I Need Your Lovin'" vor: Dies war 1964 der erste Millionenhit für die Four Tops.
Jana Herzen: "My Latin Love" aus dem Album "The Passion Of A Lonely Heart" [2013]: Dass Labelchefin Jana Herzen auch eine passionierte Singer-Songwriterin ist, wissen nur wenige – mit ihrem zweiten Album möchte sie nachdrücklich daran erinnern. Begleitet wird Jana Herzen auf dem ganzen Album vom Ausnahmebassisten Charnett Moffett.
Charnett Moffett: "Black Codes [From The Underground]" aus dem Album "The Bridge" [2013]: Der Bassist hat schon als Teenager mit Ornette Coleman zusammengespielt, weitere Stationen seiner Karriere waren so illustre Namen wie Art Blakey, Pharoah Sanders oder Wynton Marsalis – unser Track aus Moffetts Soloalbum stammt übrigens aus dessen Feder.
Ablaye Cissoko & Volker Goetze: "Togna" aus dem Album "Amanké Dionti" [2012]: Die Musik, die der deutsche Trompeter Volker Goetze und der senegalesische Sänger und Koraspieler Ablaye Cissoko spielen, setzt sich über geografische und musikalische Grenzen hinweg. Ihr zweites Album "Amanké Dionti" entstand in einer historischen hölzernen Kirche aus dem 19. Jahrhundert in Paris.
Nilson Matta feat. Gretchen Parlato: "Eu E O Meu Amor/Lamento No Morro" aus dem Album "Black Orpheus" [2013]: Der brasilianische Jazzbassist Nilson Matta hat sich entschlossen, der Musik zum Filmklassiker "Black Orpheus" Tribut zu zollen. Mit einer grandiosen Besetzung gelingt Matta ein musikalischer Farbenrausch. Das Stück, das wir ausgewählt haben, wird mit ansteckender Leichtigkeit von Gretchen Parlato gesungen.
Lakecia Benjamin: "Smile" aus dem Album "Retox" [2012]: Die New Yorker Saxofonistin gehört zu den jungen Entdeckungen, die Motéma gemacht hat. Ihr Debütalbum "Retox" ist eine unwiderstehliche Mischung aus brodelnden Funk- und R&B-Songs, die mit jeder Menge Jazzfeeling versehen sind. Der leichtfüßige Popsong "Smile" lebt von den Lead Vocals von Maya Azucena, aber auch vom exquisiten Altsaxofonsolo der Bandleaderin.
Eldar Djangirov: "Morning Bell" aus dem demnächst erscheinenden Album "Breakthrough": Als kirgisisches Wunderkind, das als Knirps nach Kansas City kam, wurde der Pianist Eldar Djangirov schnell bekannt. Seine überragenden technischen Fähigkeiten beeindrucken auch heute noch – es gelingt ihm jedenfalls, selbst aus dem Radiohead-Song "Morning Bell" improvisatorischen Honig zu saugen.
Matuto: "Diamond" aus dem demnächst erscheinenden Album "The Devil And The Diamond": Dass auch im Bereich Weltmusik längst noch nicht alle Messen gelesen sind, beweist eine Band wie Matuto, die archaische Gitarrenlicks aus den Appalachen mit dem quecksilbrigen Akkordeon von Rob Curto und wieselflinker, lebensfroher Rhythmik afrobrasilianischer Herkunft verbindet. Das New Yorker Multikulti-Ensemble hat seinen Sound vor einigen Jahren bei einem längeren Aufenthalt in Brasilien verfeinert.
Marc Cary: "The Music Is The Magic" aus dem demnächst erscheinenden Album "For The Love Of Abbey": Der junge Pianist Marc Cary kommt ursprünglich aus der Go-Go-Szene Washingtons, mittlerweile wird er von Downbeat als einer der vielseitigsten Keyboardplayer der Jazzszene gefeiert. Labelchefin Jana Herzen war von seiner Performance auf der Beerdigung von Abbey Lincoln, bei der er als ihr ehemaliger Pianist Soloversionen ihrer Songs gespielt hat, so beeindruckt, dass sie ihn bat, ein ganzes Album mit diesen Stücken einzuspielen. Wenn man "The Music Is The Magic" hört, versteht man, warum.
Jaimeo Brown: "Power Of God" aus dem demnächst erscheinenden Album "Transcendence": Für sein Projekt "Transcendence" taucht der New Yorker Schlagzeuger Jaimeo Brown in afroamerikanische Spirituals, erkundet ostindische Musik sowie elektronische Elemente und führt dies alles unter dem Dach des Acoustic Jazz zusammen. Hierbei unterstützen ihn der Gitarrist und Soundscapekünstler Chris Sholar und der Saxofonist JD Allen. Auf "Power Of God" wird er allerdings von der Pianistin Geri Allen begleitet.