ARTE: The Voice Of Ella Fitzgerald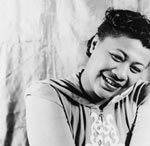 Ella FitzgeraldElla Fitzgeralds Stimme war ein Phänomen und ist bis heute unerreicht. Sie hatte eine perfekte Intonation, ihre Stimme umfasste drei Oktaven, ihre Phrasierung klang stets mühelos und es gab keinen Musikstil, in dem sie nicht brillieren konnte. Ihre heute legendären "Songbook"-Aufnahmen amerikanischer Komponisten haben Generationen von Jazz-Sängerinnen und -Sängern beeinflusst. Am 25. April 2017 wäre Fitzgerald 100 Jahre alt. Ihre Karriere begann sie mit 17 Jahren, schon kurz Zeit später war sie zu einer gefragten und gefeierten Jazzsängerin, die sich in der Swing-Ära ebenso zu behaupten wusste wie mit den Größen des BeBop. Die oft als "First Lady Of Jazz" genannte Fitzgerald war eine Meisterin des Scatgesangs, um improvisierend den Kern der Songs freizulegen, gleichgültig, ob im Uptempo oder in einer Ballade.
Am 16. April ab 23.10 Uhr zeigt der Kulturkanal ARTE die Filmdokumentation "Pure Love – The Voice Of Ella Fitzgerald". Der Regisseurin Katja Duregger ist es gelungen, neue Perspektiven auf das Lebenswerk der Sängerin zu eröffnen. Neben zahlreichem Archiv- und Fotomaterial aus verschiedenen Schaffensphasen kommen Musiker und Sänger zu Wort, die sich intensiv mit Fitzgeralds Stimme beschäftigt haben. Aber auch Musik- und Jazzforscher, Musik-Psychologen und Neurologen sollen auf einer ganz anderen Ebene Einblicke in das Wunder ihrer Stimme geben. Zudem werden Schriftsteller, Journalisten, Freunde und Fans zitiert, die ihre Erfahrungen und Erlebnisse mit Fitzgeralds Stimme zu Papier gebracht haben. Auf diese Weise beschäftigt sich die Dokumentation auf einer sinnlichen Ebene mit der Kunst von Fitzgerald – mit dem, für das sie bis heute verehrt und bewundert wird und zu einer Legende werden lässt: ihrer einmaligen Stimme.
Weiterführende Links
ARTE