John McLaughlin: Mahavishnu revisited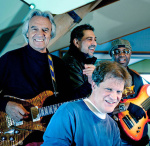 John McLaughlin & 4th DimensionAm 4. Januar 2017 feiert John McLaughlin seinen 75. Geburtstag. Dass der britische Gitarrist Ende der 1960er von Miles Davis ins Studio geholt wurde, um dort an der Produktion für das bahnbrechende Album "Bitches Brew" (Columbia/Sony) beteiligt zu sein, kam für McLaughlin einem "Ritterschlag" gleich. Seitdem gehört er zu den stilbildenden Musikern auf seinem Instrument, vor allem in der kurz darauf so populären Gattung Jazz-Rock konnte er sich weltweit einen Namen machen und wurde Vorbild für viele nachfolgende Gitarristen. Maßgeblich für seinen herausragenden Ruf als Gitarrist war indes eine Band, die als wegweisend gilt für die Fusion von Jazz und Rock: das Mahavishnu Orchestra, das McLaughlin 1971 gründete und dessen erste Besetzung mit Jerry Goodman (Violine), Jan Hammer (Keyboards), Rick Laird (E-Bass) und Billy Cobham (Schlagzeug) geradezu legendär ist.
Mit seiner aktuellen Band The 4th Dimension will McLaughlin im Jahr seines 75. Geburtstags an die kommerziell wie musikalisch erfolgreiche Zeit mit dem Mahavishnu Orchestra erinnern. "Das Mahavishnu Orchestra ist nicht nur Teil der Musikgeschichte, sondern vor allem Teil meiner Biografie, und als solches untrennbar mit mir verbunden", schreibt der Gitarrist in einer Pressemitteilung, mit der er die Herbsttournee "The Meeting Of The Spirits" 2017 ankündigt. Im Mittelpunkt dieser Tournee stehen die Songs der Albumklassiker des Mahavishnu Orchestra, beispielsweise vom Debüt 1971, "Inner Mounting Flame", und vom Nachfolger 1973, "Birds Of Fire". "Für mich ist es aufregend", so McLaughlin weiter, "diese Stücke aus der Distanz von 45 Jahren neu zu spielen – mit den Erfahrungen, die ich seitdem gemacht habe." Die exakten Konzerttermine wurden noch nicht bekanntgegeben, zudem beantwortet die Pressemitteilung nicht die Frage, ob der Gitarrist mit "The Meeting Of The Spirits" 2017 auch nach Europa kommen wird.
Weiterführende Links
John McLaughlin