Osaka: International Jazz Day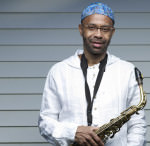 Kenny GarrettDer dritte von der UNESCO und dem "Thelonious Monk Institute Of Jazz" initiierte "International Jazz Day" wird in diesem Jahr mit einem Gala-Konzert im japanischen Osaka gefeiert. In einer gemeinsamen Erklärung der beiden Institutionen wird der Jazz als Weltsprache der Freiheit bezeichnet. Für die UNESCO-Generaldirektorin Irina Bokova symbolisiert der Jazz den weltweiten Kampf gegen Rassismus und für Demokratie. "Jazz ist der Soundtrack für positive soziale Veränderung", heißt es in ihrer Botschaft zum 30. April. Der UNESCO-Botschafter Herbie Hancock bezeichnet den Jazz als die wirksamste musikalische Kunstform für Diplomatie und Völkerverständigung.
Beim Konzert in Osaka werden neben vielen anderen auch Toshiko Akiyoshi, Terri Lyne Carrington, Kenny Garrett, Herbie Hancock, Roy Hargrove, Gregory Porter, John Scofield, Wayne Shorter und Esperanza Spalding auftreten. Das Konzert in Osaka wird weltweit als Live-Stream über die Seiten der UNESCO, des amerkanischen Außenministeriums und des "Thelonious Monk Institute Of Jazz" übertragen. Insgesamt nehmen 140 Nationen mit zahlreichen Konzerten, Workshops und Diskussionsveranstaltungen am International Jazz Day teil. Der Präsident des "Thelonious Monk Institute Of Jazz", Tom Carter, berichtet, dass bei den ersten beiden "International Jazz Days" jeweils eine Milliarde Menschen von den Jazzfeierlichkeiten am 30. April erreicht wurden.
Weiterführende Links:
"International Jazz Day"