Nadia Maria Fischer – Talk
Jazz thing Next Generation Vol. 9
"Talk": Auf Volume 9 unserer Reihe "Next Generation" (Double Moon/sunny moon) spricht Nadia Maria Fischer singend über sich und ihre Liebe(n). Melancholisch, traurig, leise optimistisch, hoffnungslos romantisch. Es ist diese intime Ansprache, mit der uns die Sängerin in ihre Welt förmlich hineinzieht. Ein sinnliches Psychogramm, fernab autobiografischer Larmoyanz.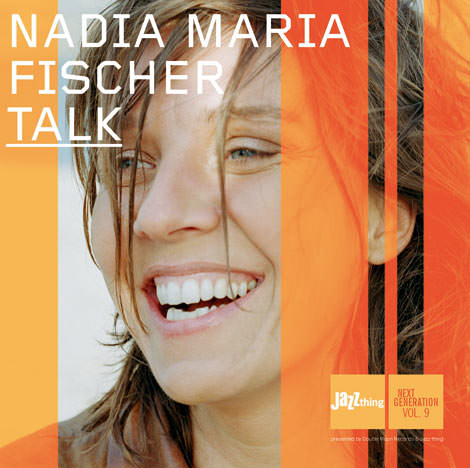 Ein spätes und umso reiferes Debüt: "Waiting" ist ein Wort, das in ihren Texten immer wieder auftaucht.
"Ich war ganz lange mit anderen Dingen beschäftigt. Auch insofern war waiting mein Thema, eine bestimmte Passivität im Umgang mit dem Leben, hoffnungslos romantisch, das Warten auf irgendwas, das kommt und alles heile macht – was sicher auch ein großes Frauenthema ist, um mich da ein bisschen herauszunehmen!" (Lacht.)
Die Mutter eines elfjährigen Sohnes (mit dem Franck-Band-, Drei-Vom-Rhein- und einstigen Stefan-Raab-Bassisten Claus Fischer) schien lange davon überzeugt, Zeit und Raum für kreatives Gestalten verloren zu haben. Doch die Anforderungen des elterlichen Alltags konnten auf Dauer den Blick für die großen Bögen nicht verstellen. Fischer hat ihr "Zeitfenster" (wieder) gefunden: Es scheint, als ob sie hinausschaut, Prozesse, Entwicklungen beobachtet, sie in Zeitlupe vorbeiziehen lässt. Dinge, mit denen sie sich lange beschäftigt hat und die außer Sicht gekommen schienen, kehren zurück, erhalten eine Form, werden Wort und Klang.
"Es ist eine Auseinandersetzung mit der Zeit und mit meinem eigenen Tempo, eine Art Verlangsamung. Ich bin daraus auch oft wieder ausgestiegen, bis ich irgendwann mal die Sachen wirklich in dem Tempo gestaltet habe, in dem ich sie eigentlich erlebe. Bestenfalls habe ich das Gefühl, gar nicht mehr wirklich dabei zu sein – insofern stimmt das Bild von dem Blick auf irgendetwas."
Es ist dieses beinah zwanghafte Verlangen, das Er- und Durchlebte in einen Song einfließen zu lassen. "Ein riesiges Klischee, aber leider stimmts! Vieles hat eine Dringlichkeit, die mir oft gar nicht bewusst ist." Songschreiben als Seelenmassage? "Ja, auch wenn leider der Begriff des Therapeutischen negativ besetzt ist, eigentlich ist es ja nur ein Begriff für eine Auseinandersetzung. Dem, was mich wirklich bewegt, eine Gestalt zu verleihen, ist auf jeden Fall etwas Heilendes."
Der Prozess des Gestaltens ist seit jeher ein durch Mythologisierung vernebeltes Phänomen. Wer immer noch glaubt, Momente der Inspiration könnten sich nur am offenen Meer, im Garten des Landhauses oder an anderen Schauplätzen innerer Einkehr einstellen, der mag dort lange warten. "Ich habe zum Beispiel im Auto schnell auf irgendwas geschrieben, um diesen Moment festzuhalten, in dem die Information drinsteckt. Es ist nicht so, dass du da sitzt und dann fällt dir irgendwann irgendwas zu – es ist einfach harte Arbeit!"
Einem Song zum Leben zu verhelfen kann manchmal mühsam sein. Doch erst einmal klangliche Realität geworden, entledigt er sich des allzu Privaten. Ohne gleich Allgemeingut zu werden, kann er doch bestenfalls "einen Nerv treffen, den viele Menschen fühlen können. Das geht erst, wenn das Thema für mich mehr oder weniger erledigt ist, sonst bin ich zu sehr involviert." Dabei spielt es keine Rolle, ob es sich um eigenes Urhebergut oder um Coverversionen handelt (Fischer interpretiert u.a. Songs von Steve Winwood, Abbey Lincoln und den Standard My One And Only Love). "Ich habe früher immer Spring Can Really Hang You Up The Most gesungen. Aber es hat ewig gedauert, bis ich das Gefühl hatte, das ist meins, jetzt ist es so verinnerlicht, dass es, obwohl es teilweise intim ist, nicht voyeuristisch wäre, da draufzugucken." Nie geht es nur darum, dem Wort Gehör zu verschaffen. Die Essenz vermittelt sich erst in der Ganzheit des Gebotenen.
Dazu gehört auch das sensible Spiel des Gitarristen Norbert Scholly und des Bassisten Dietmar Fuhr – keine Begleiter, eher Mitstreiter im Freilegen des Kernes. "Für mich ist Klang der wichtigste Informationsträger. Wenn du Glück hast, triffst du ein archaisches Moment. Dann hast du die die Stimmung vom Wort im Klang, kannst mit den Worten agieren, ohne dass du über sie nachdenken musst – das ist ja auch das, was man in seiner eigenen Sprache tut: Ich denke nicht über jedes Wort nach, sondern habe es verinnerlicht."
Was sich wie und wodurch vermittelt: Vor allem darüber tauscht sich Nadia Maria Fischer mit ihren Studenten aus. Die Absolventin der Kölner Musikhochschule (außerakademisch geschult u.a. bei den Soulcats und beim ehemaligen Wolf-Maahn-Gitarristen Axel Heilhecker) nimmt seit 2004 einen Lehrauftrag für Jazz- und Populargesang in Dresden wahr – gemeinsam mit (der auf Next Generation Vol. 1 präsentierten) Esther Kaiser und mit Céline Rudolph (einst A-cappella-Partnerin Fischers im Quartett Harem 4).
Alle zwei Wochen pendelt sie zwischen Bergisch-Gladbach und dem Elb-Florenz – eine Mobilität, die die geborene Kölnerin nur zu gewohnt ist.
"Ich bin im Iran aufgewachsen, mein Vater hat damals als Musiklehrer im Auslandsschuldienst gearbeitet. Ich war sechs Jahre dort, im Alter von fünf bis elf. Ich war nie wieder da, das hatte auch irgendwas Traumatisches, ein Verlust von Heimat. Das zieht sich eigentlich durch mein ganzes Leben: Ich war hier wie dort fremd, immer dieses Gefühl, nicht irgendwo zugehörig zu sein. Ostern war ich das erste Mal seit 30 Jahren wieder da. Es war sehr berührend, da schloss sich für mich ein Kreis, auch zum Steve-Winwood-Song Cant Find My Way Home: ein Zuhause, das ich immer gesucht habe."
Jenes Zwitterdasein verstärkte in Nadia Maria Fischer den Wunsch, "mich jetzt zu definieren, das war ich mir schuldig, deshalb wollte ich die CD aufnehmen." Und es scheint, als schweife ihr Blick durchs Zeitfenster auch zurück, weit zurück.
"Mein Vater hat uns damals immer wieder ins Auto gepackt, wir sind vom Iran nach Deutschland gefahren, ich war in Afghanistan, überall, hinten im Kombi, irgendwo in der Wüste geparkt! Diese Weite habe ich nie wieder so erlebt, diese Nichtigkeit, die du in so einem Raum empfindest. G-Zone hat für mich viel mit Wüste zu tun. Und mit Niemandsland! Eigentlich war das mein Arbeitstitel: Niemandsland…"
/* php _e( 'Comments are closed.', 'boilerplate' ); */ ?>