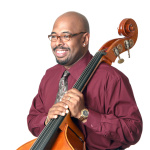 Bandleader Christian McBrideAls das Apollo Theater diesen Konzertabend plante, weilte die Queen of Soul noch auf Erden und der Film "BlacKkKlansman" galt noch nicht als die Filmsensation des Jahres. Mittlerweile gab das legendäre Theater in Harlem bekannt, dass es anlässlich des 50-jährigen Jubiläums eines richtungsweisenden Songs seine Bühne öffnet. "Als 'Soul Brother Number One' James Brown im Sommer 1968 'Say It Loud – I'm Black and I'm Proud' veröffentlichte, wurde es zum Titelsong einer ganzen Bewegung", schreiben die Veranstalter.
James Brown brachte den Song vier Monate nach der Ermordung von Martin Luther King Jr. heraus. "Das Lied und seine Botschaft waren so stark, dass es Wellen durch die schwarze amerikanische Kultur schickte. Kein Wunder, dass viele andere Soul- und R&B-Künstler aufmerksam wurden und ihre eigenen Black Pride Songs entwickelten. Dieses Konzert feiert nicht nur James Brown, sondern auch die Black Pride Musik, zu der er ab Sommer 1968 zahlreiche afroamerikanische Künstler inspirierte, darunter The Temptations, Sly and the Family Stone und andere."
Unter Leitung von Christian McBride werden die Black Pride Songs aus der Zeit von Vietnam, KKK und Black Power aufgeführt. Mit dabei sind Fred Wesley, Pee Wee Ellis, Frank Greene, Lee Hogans, Steve Wilson, Rodney Jones, Eric Krasno, Robert "Mousey" Thompson, Nikki Glaspie, Gabu Lugo, Janice Pendarvis sowie Nona Hendryx und Lisa Fischer. Als besonderer Bühnengast ist der Bürgerrechtler Reverend Al Sharpton angekündigt. Das Konzert findet am 20. Oktober im Apollo Theater statt.
Weiterführende Links:
"Say It Loud"