Buch: The Ballad Of Tommy LiPuma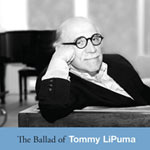 The Ballad Of Tommy LiPumaBen Sidran, 1943 in Chicago geboren, ist nicht nur ein bekannter Jazzpianist und -sänger, der im Laufe seiner Karriere mit vielen Größen zusammengearbeitet hat – wie beispielsweise Eddie Gomez, Peter Erskine, Johnny Griffin oder Dizzy Gillespie. Vielmehr ist Sidran auch promovierter Musikwissenschaftler, dessen Doktorarbeit als Buch erschien und unter dem Titel "Black Talk" zum Standwerk geworden ist. Deshalb arbeitete er Zeit seiner Karriere oftmals als Musikjournalist und Radiomoderator – unter anderem für das amerikanische "National Public Radio", wo er fünf Jahre lang die Sendung "Sidran On Record" produzierte und mit zahllosen Jazzmusiker*innen Gespräche führte. Eine Auswahl aus diesen Interviews hat Sidran unter dem Titel "The Talking Jazz Project" zusammengefasst und in einer 24 CDs umfassenden Box veröffentlicht.
Gerade ist Sidrans Biografie der 2017 gestorbenen Produzentenlegende Tommy LiPuma erschienen: "The Ballad Of Tommy LiPuma". Kennengelernt haben sich die beiden bereits in den 1970ern, als Sidran ein noch junger, aufstrebender Musiker, LiPuma aber schon eine gestandene Produzentenpersönlichkeit war. In den rund 300 Seiten seines Buches erzählt Sidran die Lebensgeschichte LiPumas wie einen Roman, ihm sind die kleinen, privaten Geschichten dieses Mannes genauso wichtig wie dessen Karrierestationen. Fast schon legendär ist die Tatsache, als LiPuma zum Beispiel 1969 seine Plattenfirma Blue Thumb Records an den Start brachte, mit der er die Karrieren vieler Pop- und Jazzgrößen befeuerte, oder als er Miles Davis Mitte der 1980er überredete, von seiner langjährigen Plattenfirma Sony/Columbia zu Warner zu wechseln, wo die beiden das Album "Tutu" verantworteten. Oder die Art und Weise, wie LiPuma die noch recht junge Diana Krall unter seine Fittiche nahm und in einen Popstar des Jazz verwandelte. Doch es sind vor allem die im Plauderton erzählten Anekdoten, die mal tragischen, mal lustigen Geschichten aus LiPumas Leben, die sich als Fragmente wie in einem Puzzle immer wieder in farbenreiche Bilder zusammensetzen. "The Ballad Of Tommy LiPuma" ist in Sidrans eigenem Verlag Nardis Books erschienen, hat 286 Seiten und kostet 25 Euro.
Weiterführende Links
Nardis Books