Los Angeles: Grammy-Nominierungen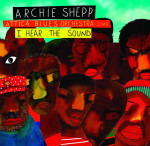 Archie Shepp I Hear The SoundUnter den jazzbezogenen Nominierungen für die 57. "Grammy"-Verleihung finden sich zahlreiche Bekannte. Auf die Auszeichnung für das beste Jazz-Solo dürfen Kenny Barron, Chick Corea, Fred Hersch, Joe Lovano und Brad Mehldau hoffen. Unter den zahlreichen Auserwählten finden sich auch "Beautiful Life" von Dianne Reeves, Brian Blade & The Fellowship Band wurde für "Landmarks" in der Sparte "Best Jazz Instrumental Album" nominiert, "Live: I Hear The Sound" mit dem Archie Shepp Attica Blues Orchestra als "Best Large Jazz Ensemble Album" oder "The Offense Of The Drum" mit Arturo O'Farrill & the Afro Latin Jazz Orchestra in der Sparte "Best Latin Jazz Album". "Cheek To Cheek" mit Tony Bennett und Lady Gaga ist nominiert als "Best Traditional Pop Vocal Album", "Black Radio 2" von Robert Glasper Experiment als "Best R&B Album".
In der Sparte "Best Album Notes" sind die Liner-Notes von Ashley Kahn zum John Coltrane Album "Offering: Live At Temple University" nominiert. In der Kategorie "Best Historical Album" wurde auch die 48 CDs umfassende Box "Black Europe" erfasst, die auf dem deutschen Label Bear Family Records veröffentlicht wurde. Das musikhistorische Monumentalwerk enthält Aufnahmen schwarzer Künstler im Europa vor 1927. Die Sieger der 57. Grammyverleihung werden am 8. Februar 2015 in Los Angeles gekürt.
Weiterführende Links:
"Grammy"