Premiere: Ellis Marsalis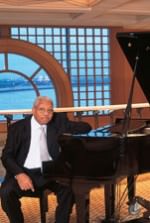 iTunes-LP von Ellis MarsalisDer Pianist Ellis Marsalis ist der erste Jazzmusiker, der in der 2009 initiierten "LP"-Reihe von iTunes veröffentlicht wird. Bei "iTunes LP" geht es um die Erweiterung des gängigen Musik-Angebots um exklusives Bonus-Material. Bei der Ellis-Marsalis-"iTunes LP", "An Open Letter To Thelonious" handelt es sich zunächst mal um die elf Titel der gleichnamigen, bereits 2008 veröffentlichten CD, bei der auch sein Sohn Jason Schlagzeug spielt. Gerade wurde die Marsalis-Familie im Lincoln Center vom "National Endowment Of The Arts" als "Jazz Masters 2011″ ausgezeichnet.
Zu dem Bonus-Material des LP "An Open Letter To Thelonious" gehört aktuell passend auch das Video "Marsalis Family: First Family Of Jazz" sowie die Video-Autobiografie "Ellis Marsalis: My Life In My Words". Neben weiteren Bonus-Tracks sind auch Auszüge aus Robin D.G. Kelleys preisgekröntem Buch "Thelonious Monk: The Life And Times Of An American Original"enthalten.