Thomas Kolarczyk Ensemble
Idylle mit Wurm
Thomas Kolarczyk leitet sein Ensemble vom Kontrabass aus. Wie vielfältig dessen Möglichkeiten sind, lässt sich auf dem Debütalbum "Halbträume" (Double Moon/in-akustik), das in Berlin entstand und fast ausschließlich Kompositionen des Bandleaders enthält, nach und nach entdecken.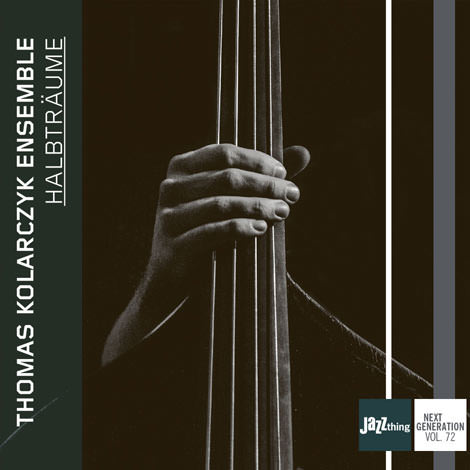 Als "Musikalische Initiative für die Internationalisierung des Abendlandes" entstand das Ensemble zum Abschluss von Thomas Kolarczyks Jazzstudium. Abgekürzt Mifida, war der Bandname eine Art Parodie auf die damals entstandene Pegida-Bewegung – ein Stück auf "Halbträume" heißt deshalb auch "Mifida". Mittlerweile hat sich der Bassist allerdings für den deutlich seriöseren Namen Thomas Kolarczyk Ensemble entschieden.
"Es gibt sicher Leute, die diese Art Humor in den falschen Hals bekommen", vermutet Kolarczyk, "oder auch Veranstalter, die aufgrund des Namens Angst vor Tumulten haben. Und da ich für die Band komponiere, ist es ja auch sinnvoll, sie nach mir zu benennen."
Mit Klarinettist Viktor Wolf, Multiinstrumentalist Otto Hirte und Tenorsaxofonist Slawek Pezda – mittlerweile spielt wieder Marc Doffey im Ensemble, für den Pezda während der CD-Aufnahmen eingesprungen war – verfügt die Band gleich über drei Holzbläser, Kolarczyk und der Schlagzeuger Kuba Gudz machen das Ensemble komplett.
"Ich stand schon immer auf Jazzensembles ohne Harmonieinstrumente", gibt der Bassist zu. "Gruppen wie die von Ornette Coleman oder John Zorn haben mich immer gereizt, weil man dadurch viel Freiheit in der Improvisation bekommt."
Die macht sich das Ensemble in den sieben sehr transparent gehaltenen Stücken auf "Halbträume" zunutze und spielt mit ständig wechselnden Konstellationen und Klangfarben.
"Ich komponiere relativ wenig und sehr intuitiv", erläutert Kolarczyk. "Das, was ich bei meiner Tätigkeit als Musiker gehört habe, kommt dann irgendwie in meinen Kompositionen wieder heraus. Vieles auf dem Album klingt ein bisschen türkisch, weil ich während meines Studiums viel mit kurdischen und türkischen Musikern gespielt habe. Der Einfluss kam dann in meinen Kompositionen zum Vorschein, ohne dass ich das aktiv gewollt hätte."
Beim langsamen kurdischen Tanz "Serane" ist dieser Einfluss offensichtlich, und vielleicht ist das auch der Grund, warum das Quintett ein Jahr nach seiner Gründung bereits einen Preis beim Weltmusik-Wettbewerb "creole" gewinnen konnte. Denn mit Weltmusik hat das Ensemble des 28-jährigen Bassisten eigentlich wenig zu tun.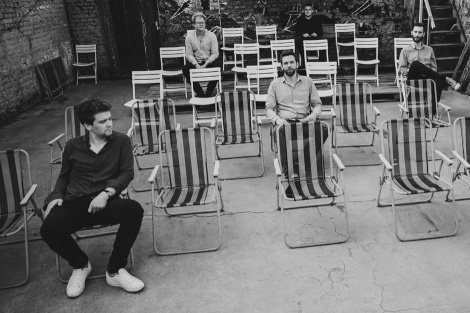 Kolarczyk, dessen Familie aus Polen stammt und der in Mönchengladbach aufgewachsen ist, hat zunächst klassische Gitarre gespielt.
"Mit 16 war ich in den Sommerferien aus Langeweile in einem Gitarrenladen und habe mir Gitarren angeguckt, als ein Mann mit einem E-Bass in der Hand hereinkam", schildert der Musiker ein schicksalhaftes Zusammentreffen. "Der wollte ihn eigentlich dort in Zahlung geben, hat ihn mir dann aber für 20 Euro verkauft, weil er den Eindruck hatte, dass ich Spaß damit haben würde. Mit dem E-Bass habe ich angefangen, in einer Metal-Band zu spielen. Mein Lehrer war allerdings Jazzbassist und hat mich dann ziemlich schnell zum Kontrabass geführt."
Vom Metalhead zum Jazzbassisten scheint es ein weiter Weg zu sein, Kolarczyk allerdings hat das ganz anders empfunden.
"Für mich ist der Metal vom Jazz gar nicht so weit entfernt, es gibt eine Hintertür", grinst er. "In meiner Pubertät habe ich nach immer intensiverer Musik gesucht und bin schließlich auf ein Onlineradio gestoßen, das hauptsächlich Free Jazz spielte – das fand ich noch intensiver als Metal. Dort liefen Peter Brötzmanns 'Machine Gun', die späten Coltrane-Sachen oder 'Bitches Brew' von Miles Davis, das hat mir total die Augen geöffnet."
Diese freien Einflüsse aus frühen Tagen sind heute noch in der Musik des Thomas Kolarczyk Ensembles präsent.
"'Berlin Is Full Of Lonely People' ist eigentlich eine Anspielung auf ein Stück vom Art Ensemble of Chicago, das 'New York Is Full Of Lonely People' heißt", sagt der Bassist über den Album-Opener. "Es fängt eine Stimmung ein, die Berlin auch ausmacht, nämlich Armut und viele Dinge, die man eigentlich nicht sehen will, wenn man unterwegs ist. Gewidmet habe ich das Stück ursprünglich einer Frau, die damals immer am S-Bahnhof Lichtenberg stand, um mit den Leuten ins Gespräch zu kommen."
Dass Berlin natürlich auch ein Magnet für Menschen aus aller Welt ist, die hier ihr Glück suchen, wird im Gegenstück deutlich, das von einem wunderschönen Solo des Bandleaders eingeleitet wird.
"'Berlin Is Full Of Happy People' beleuchtet die andere Seite von Berlin", sagt Thomas Kolarczyk. "Wenn man das Stück genau anhört, merkt man allerdings, dass in der vermeintlichen Idylle durchaus auch der Wurm steckt."
Jazz thing präsentiert
Thomas Kolarczyk Ensemble
17.04. Nürnberg, Tante Betty Bar
18.04. Gräfenberg, Schreinerei Kunzmann
19.04. Duisburg, Lokal Harmonie
20.04. Mönchengladbach, BIS Zentrum
21.04. Fulda, Rösterei .kaffeekultur
23.04. Mainz, Kulturclub schon schön
26.07. Berlin, Musikinstrumenten-Museum

/* php _e( 'Comments are closed.', 'boilerplate' ); */ ?>