George Benson. Unforgettable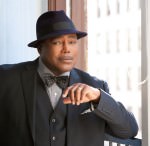 'Inspiration' von George BensonEin tiefer Griff in die eigene Biografie: Gleich im ersten Stück des neuen Albums "Inspiration: A Tribute To Nat King Cole" (Concord/Universal) hört man den kleinen, gerade einmal acht Jahre alten George Benson, wie er Nat King Coles Song "Mona Lisa" zum Besten gibt. Das mag auf den ersten Blick wie ein Gimmick wirken. Doch zeigt es, wie wichtig Benson dieser legendäre Pianist, Sänger und Entertainer ist. Und dass er eine ganze Weile schon mit dem Plan herumgelaufen ist, ein Album mit Liedern aus dem Songbook von Nat King Cole aufzunehmen und zu veröffentlichen.
"Inspiration: A Tribute To Nat King Cole" ist tatsächlich bemerkenswert. Zum einen, weil Benson es mit dem 42-köpfigen Henry Mancini Institute Orchestra aufgenommen und dann auch noch überraschende Gäste mit ins Studio gebeten hat, die sein Tribute-Album geradezu adeln – wie zum Beispiel die beiden Trompeter Wynton Marsalis und Till Brönner. Zum anderen aber sind die alten, ursprünglichen Arrangemens von Nelson Riddle zum Einsatz gekommen. "Diese Arrangements sind ein Teil von Nat Coles Geschichte", erzählt Benson in der aktuellen Ausgabe von Jazz thing, "diesen Arrangements kann man nicht entgehen, man muss sie wieder und wieder hören, weil sie einfach so gut sind." Und auch wenn George Benson sich auf seine Rolle als Sänger konzentriert, so kommt dennoch die Gitarristen-Fraktion unter seinen Fans nicht zu kurz: Einige prägnate, in typischer Benson-Manier vorgetragene Soli auf der Gitarre gibt es natürlich auch auf "Inspiration: A Tribute To Nat King Cole" zu hören.