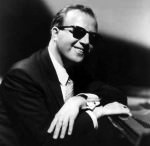 Ist am 14.2. gestorben: George ShearingWäre George Shearing in den USA geboren worden, sein Leben wäre die klassische Umsetzung des amerikanischen Traums gewesen. Doch Shearing kam am 13. August 1919 im Londoner Arbeiterviertel Battersea blind zur Welt. Sein Vater fuhr in London Kohlen aus, seine Mutter arbeitete als Putzfrau bei der Eisenbahn. Als Dreijähriger begann er, Klavier zu spielen, als Teenager trat er in den Pubs seines Viertels auf. Später dann hatte Shearing Engagements in britischen Jazz-Bands, wie zum Beispiel in Willie Lark's Dance Band und der Ambrose Dance Band.
1937 wurde Shearing dann von seinem Landsmann, dem Produzenten und Journalisten Leonard Feather, entdeckt, erste Plattenaufnahmen wurden gemacht. Doch die Welt-Karriere des Pianisten begann zehn Jahre später. Feather überredete Shearing, nach New York zu übersiedeln, wo "September In The Rain" entstand. Schon damals war sein Sound präsent: das Unisonospiel von Vibrafon, Gitarre und Klavier mit den für Shearing so typischen Blockakkorden, die er von Milt Buckner übernommen und weiterentwickelt hatte.
Im Laufe seine langjährigen Karriere arbeitete Shearing mit einer Vielzahl von Jazz-Größen zusammen – wie zum Beispiel Mel Tormé, Jim Hall, Carmen McRae und Hank Jones. Viele seiner Kompositionen sind mittlerweile im Standard-Repertoire des Jazz zu finden, wie beispielsweise "Lullaby Of Birdland". 1983 durfte sich der Pianist für "An Evening With George Shearing & Mel Tormé" zum ersten Mal über einen "Grammy" freuen. 1996 wurde er zum "Officer Of The Order Of The British Empire" ernannt und 2007 als "Knight Bachelor" von Queen Elisabeth in den Adelsstand gehoben. Am 14. Februar 2011 ist Sir George Shearing in New York gestorben.